Accessor II Courtroom Lift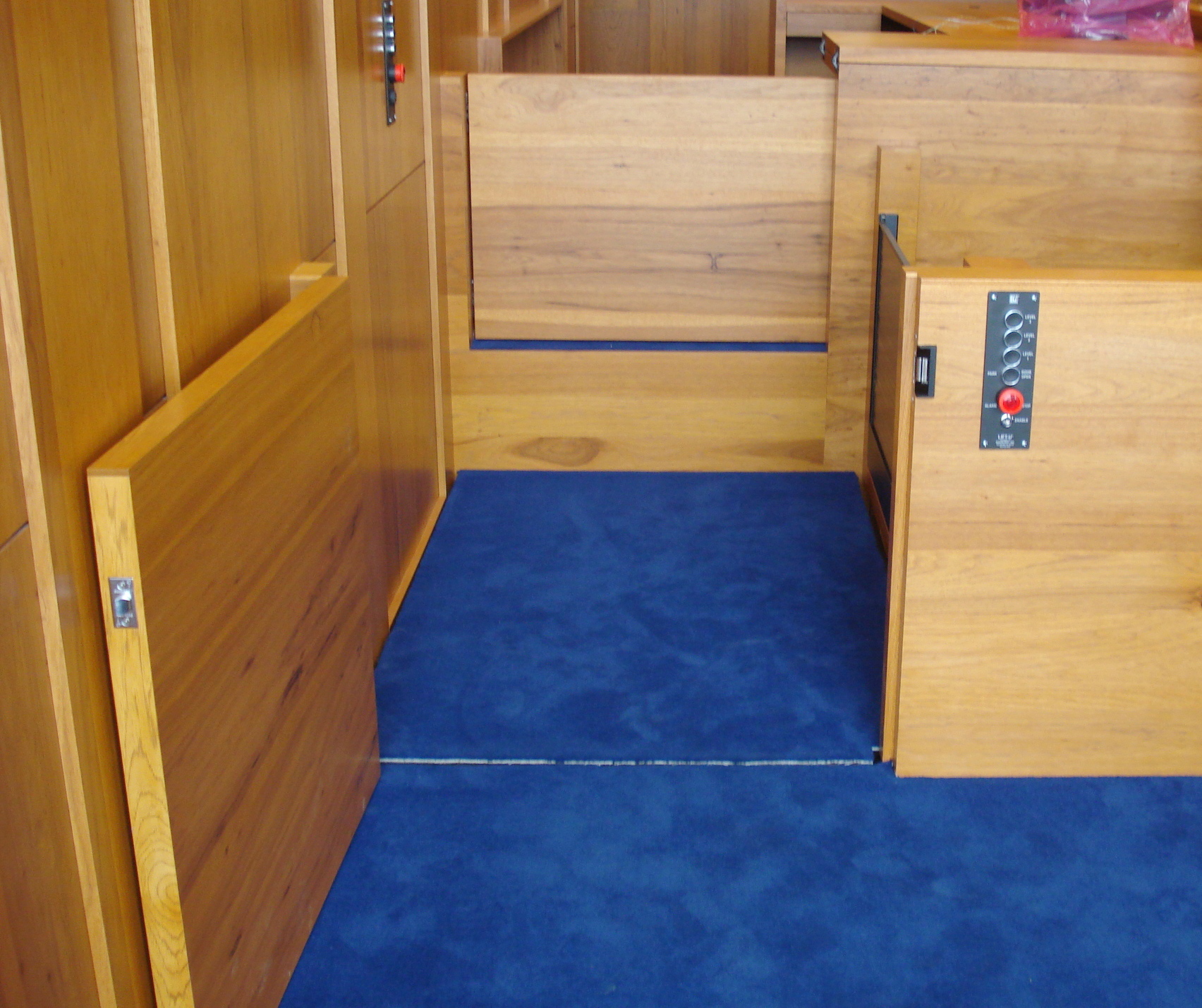 Model VMX
Meets the requirements of the 2010 ADA Standard
Complies with ASME A18.1 Safety Standard for Platform Lifts
Witness Lifts
Judge Bench Lifts
Jury Access Lifts
Clerk Station Lifts
Custom Lift Applications
The Accessor II wheelchair lift allows a person with a physical disability or impairment to fulfill their legal obligations in court with complete access, dignity, and without disrupting court proceedings or drawing unnecessary attention to the witness.
The Accessor II wheelchair lift also provides wheelchair access for judges, clerks, court reporters, and jurors with a physical disability.
The Accessor II is intended to be fully integrated into the architectural design of the courtroom or building structure and can adapt to almost any situation (a pit and minor mill-work interfacing required). The Accessor II is electronically controlled and operated, simple to use, quiet, and requires little maintenance. There are no hydraulics used, eliminating the potential for platform bleed down which typically renders the system inoperable.
The Accessor II is ideal for new construction or retrofit applications where ADA upgrades are required.
Accessor II 3D Layout Presentation
Accessor I & II Wheelchair Lifts for Courtrooms
NEW APPLICATION USERS
For those unfamiliar with the Accessor I or II Vertical Platform Lifts, please follow the steps below:
Decide on what product suits your design needs. Our product Sales Brochure (pdf, 366Kb) highlights product features and specifications
Accessor I – No pit required.
Accessor II – Pit required.
Print out Lift Application Guidelines (pdf, 2Mb). This informative guide will assist you on design planning, wheelchair lift special provisions, installation considerations and regulatory compliance responsibilities.
Print out Exemplar Configuration Drawing (pdf, 455Kb). Illustrates Accessor configuration variables for courtroom witness and or judge's bench, and rostrum applications. Of course not all configurations are outlined, but in general you will see on how easily our system can be incorporated into your design.
THE MOST IMPORTANT STEP. Once you have completed steps 1-3 please contact LIFT-U® for preliminary configuration drawings. We will require a dimensioned PDF or CAD file outlining your preliminary design. With this information, we can incorporate our machine requirements into your project outline and offer cost saving features if applicable. Once a preliminary configuration is completed we can offer budget pricing for your site-specific application. Lift-U offers this service free of charge.
MODEL VMX ACCESSOR II PHOTO GALLERY