Accessor Convertible Walkway
Model ACW
The Accessor Convertible Walkway (ACW) is designed to provide access where building conditions will not permit the use of a permanent ramp or lift. The initial design intent was an exterior application to provide access to buildings in older areas of many cities that, heretofore, could not be made accessible.
Recently, a number of interior applications have been identified and more are being discovered for this new accessibility solution. An example of an interior application would be an elevated station such as a clerk in a courtroom. In this situation, the typical lift enclosure requires too many changes to the existing aesthetics, and a permanent ramp creates a tripping hazard in the courtroom. The ACW allows the elevated station to be wheelchair accessible when needed.
The ACW provides a horizontal walking surface for use by everyone until a sloped surface is needed for wheelchair access. With the push of a button, the ACW becomes a sloped surface for the wheelchair user and then returns automatically to the horizontal position. The operation of the ACW can operate in cooperation with an automatic door. There are two models available, the ACW7 and the ACW8. See below for more information.
Model ACW7
The ACW7 is designed to provide single-step ambulatory access and an ADA required "1 on 12" sloped access for indoor and outdoor applications.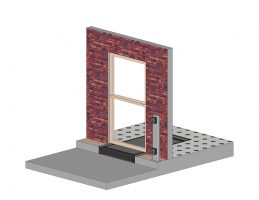 View a video of the Model ACW7
Model ACW8
Due to its thin profile of less than an inch, the ACW8 installs on top of the sidewalk or lower landing, eliminating the need for a pit. The ACW8 provides an ADA required "1 on 12" sloped access for indoor and outdoor applications.
View a video of the Model ACW8