A recent article titled, "The New Accessible Courtroom"  in Correctional News by Mr. Robert Schwartz, with HOK, addresses the current ADA Standards, also known as the 2010 ADA Standards for Accessible Design and how they apply to providing accessibility in courtrooms.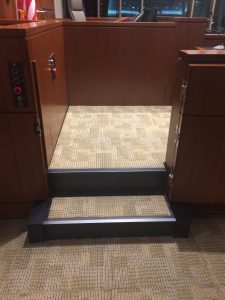 While ramps provide one option, they have a large impact on available square footage.  The use of ramps requires extra space to be dedicated for ramp use only. In new construction, the extra square footage required may be easier to achieve cost wise.  However, in an existing courthouse undergoing renovations, the space required for ramps is seldom available.
When square footage is limited either in new construction or renovations, courtroom wheelchair lifts provide the most efficient and cost effective use of available space.  Lift-U's® Accessor Courtroom wheelchair lifts have proven to be a responsible and reliable option for hundreds of installations.  The Accessor Courtroom Lifts exist within the confines of the judge's bench, clerk station and witness stand areas.  These specific Courtroom Lifts are used in new construction and renovation projects.  When accessibility is needed and square footage is at a premium, LIFT-U's® all-electric Courtroom Lifts are an excellent choice.